When you come into the periodontal office for an examination, you might assume that the focus is on your teeth and gums. That's often correct — but don't forget that there are a number of other parts of the oral and facial anatomy that are examined as well. These include areas around and inside the mouth (such as the lips, cheeks, hard and soft palate, and the tongue) as well as outside the mouth (the skin, muscles and glands in the neck, and the temporomandibular joint). In fact, when it comes to detecting certain oral or systemic (whole-body) diseases, a thorough dental exam may be your first line of defense.
How are diseases in the mouth discovered? You will be asked about any changes you have noticed, or symptoms you may be experiencing. Your face, mouth, and neck will then be visually inspected, and certain areas may be palpated (gently touched or pressed with fingers) or probed (touched with a small instrument). If needed, additional tests or diagnostic imaging (X-rays or other methods) may be used to aid in diagnosis.
Occasionally, an abnormality such as a lesion (an unusual localized change in your tissues) is found that needs to be examined further. Lesions may resemble white spots, red spots, or lumps, but they are typically benign. However, it is often better to err on the side of caution and perform a biopsy to be sure. A biopsy is the removal of a piece of abnormal tissue from your oral cavity. This tissue is given to a pathologist for examination. The pathologist then prepares the tissue and examines the cells under a microscope in order to give a definitive diagnosis.
Geographic Tongue
Geographic tongue is characterized by harmless lesions, or patches, that can suddenly materialize on the tongue's top surface. The condition gets its name from the physical appearance of the lesions, which resemble smooth, red islands, possibly rimmed with white. Their smoothness comes from the absence of the tiny bumps or "papillae" that normally cover the entire surface of the tongue. These variations in color and texture give the whole tongue a map-like appearance.
The pattern on the tongue can change daily as the lesions appear to move or migrate, healing in one spot only to reappear in another. That's why the medical term for this condition is benign migratory glossitis . It's scary looking, but does not compromise a person's health. No one knows exactly what causes geographic tongue, but some factors that may play a role include vitiman B deficiency, irritation from alcohol or spicy foods, and genetics.
Discomfort from the condition can sometimes be relieved with over-the-counter pain relievers; mouthrinses containing anesthetics, antihistamines, or steroids; and by avoiding certain irritants such as tobacco, alcohol, and foods that are spicy, salty or acidic.
This condition can be diagnosed simply by examining your tongue; laboratory tests are usually not necessary. Geographic tongue normally resolves on its own, but a dental professional should be consulted if you notice any changes in your tongue's appearance.
Other Oral Diseases To Look For
Oral cancer is perhaps the most significant disease to look for in an examination — both because it can be life-threatening, and because early detection is proven to increase the survival rate. But it's important to remember that a large majority of unusual growths are found to be benign. Some other oral diseases that may be screened for include:
Fibroma - a thickened mass that may feel like a lump in the lining of the mouth.
Leukoplakia - a condition that causes white patches to form inside the mouth. While usually benign, the lesions may be precancerous and are often biopsied.
Lichen Planus - an inflammatory disease that sometimes causes discomfort.
Mucous Membrane Pemphigoid - an autoimmune disease that may cause oral lesions, but is not life threatening.
Pyogenic granuloma - benign red swellings that forms on gum tissue and bleeds easily.
In addition, some systemic diseases (such as diabetes, Crohn's disease, and heart disease) may produce effects that can be observed in the mouth. We are always on the lookout for signs of these potentially serious conditions.
Oral Cancer
Cancer is a scary word, but the more you know about it, the better able you will be to protect yourself and the ones you love. This is particularly true of oral cancer, which is very treatable if caught early. Unfortunately, about two-thirds of oral cancers are not caught until the late stages. You may think that if you are a non-smoker, particularly a young one, this topic is not of concern to you. If so, please think again.
While most oral cancer patients are smokers, the fastest-growing segment of newly diagnosed cases is young, non-smoking adults. The culprit is a particular strain of the Human Papilloma Virus (HPV). HPV is the most common sexually transmitted disease in the U.S., with about 20 million Americans infected. In fact, it is estimated that at least half of all sexually active people will contract it during their lives. Most strains (and there are over 100) lead to symptoms no more serious than warts, and in many cases a person's own immune system can rid the body of the disease within two years. The strain known as HPV16, unfortunately, is different. By inserting its own DNA into human cells, the virus can cause a mutation that turns normal cells into malignant ones. You may already be aware that HPV16 has been linked to cervical cancer. We now know it is also responsible for many new cases of oral cancer.
Signs & Symptoms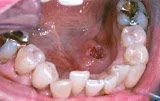 Most of the lumps, bumps, and occasional sores you find in and around your mouth are completely harmless. But you should look out for changes such as white or red patches, ulcers and lumps anywhere in and around your face and neck that persist for more than a couple of weeks. A persistent sore throat or hoarseness is also cause for concern. Most oral cancers are "squamous" (scale-shaped) cell carcinomas. The sides of the tongue are the most common sites for these small lesions. Because the tongue has a rich blood supply and a direct connection to the lymphatic system (a part of our immune system), it's a site from which cancer can easily spread. The floor of the mouth under the tongue is the second most common site. Cancerous lesions on the lower lip, which are usually preceded by chronic sun exposure, are not uncommon.
Diagnosis & Treatment
Regular screening for oral cancer is one of the most important services provided to you at the dental office. Your regular dental checkup includes a visual and tactile (touch) examination for any signs of oral cancer or precancerous lesions in and around your mouth and throat. Anything that looks suspicious, may be analyzed with a routine procedure called a biopsy, in which a small amount of the suspicious tissue is sent to a laboratory for microscopic inspection. This is the best way to get a definitive diagnosis. Should the lesion turn out to be cancerous, the rest of the malignant tissue will be removed. It's possible that radiation and/or chemotherapy will be needed to eradicate the disease. As mentioned before, when treatment occurs early, the survival rates are excellent.
Prevention
There are lifestyle choices you can make to reduce your risk considerably. Giving up tobacco in all forms, along with alcohol are big ones. Avoiding risky sexual behavior is also important. Protect yourself from overexposure to the sun, and eat a healthy diet. Research has consistently found that a high intake of fruits and vegetables is protective against oral and throat cancer; a good diet will also bolster your immune system. And please remember to schedule regular checkups here at the dental office. An oral cancer screening takes just a few minutes, but it could save your life.
When a Biopsy Is Needed
Any abnormal tissue (like lumps, non-healing sores, changes in color, etc.) found in your oral cavity that has persisted for more than 14 days and cannot be readily explained, should be biopsied to obtain a diagnosis. Although the majority of oral lesions are benign, if there is any possibility that the growth could be cancerous or pre-cancerous, it's likely that a biopsy will be performed. A biopsy is usually a simple in office procedure which requires only local anesthesia. If incisions are made, they are often closed with self-dissolving sutures (stitches) that don't need to be removed. If a laser is able to be used to obtain the tissue for a biobsy, then sutures are not required.
Because the oral tissues are rich in blood vessels, some bleeding is normal for a period of time afterward. You will be given follow-up instructions as needed, including how to manage swelling and discomfort, when to take medication, and what to eat and drink. Getting some rest and maintaining good oral hygiene will also help you get back to normal as quickly as possible. When the pathology report is complete (usually in one week), you will be given the results.
Post-surgical care Instructions for Biopsies
RECOVERY
Rest with your head elevated when you arrive at home after the procedure. We ask that you please limit your physical activity and keep moving to a minimum for the first 24-hours.
ICE APPLICATION
For the first 4-5 hours after the surgery, we recommend placing an ice bag to your face in 20-minute intervals. This will help reduce facial swelling. If needed, you can use an ice bag for 24-hours.
MEDICATION INSTRUCTION
Please take anti-inflammatory medications (NSAIDs) to prevent inflammation, swelling, and pain. For as long as you need the NSAIDs , we suggest taking 400mg-800mg of Ibuprofen every six hours to reduce swelling and pain and quicken healing. DO NOT take more than 2400mg in a 24-hour period. If you experience excessive pain or discomfort, take the narcotic that has been prescribed to you. If you do not have one, please call our office and the doctor will call in a prescription to your pharmacy. Please take as directed along with the NSAID. If you've been prescribed an antibiotic, please take as directed. We ask that you finish the entire dosage. If any of the medications are causing you extreme nausea, itching, or a rash; discontinue its use and call our office immediately.
IF YOU EXPERIENCE BLEEDING
For the next few days following your surgery, some minor oozing may occur and is no cause for alarm. Gently rinse your mouth out with iced water or iced tea (tea contains tannic acid which can help stop the bleeding). We ask that you refrain from smoking and drinking alcohol as these activities will interfere with blood clotting and healing of the surgical site. If your bleeding continues, apply pressure to the surgical site by pinching the area with a moistened piece of gauze for 20 minutes. If your bleeding is moderate to heavy and has continued for a few hours without stopping, please call our office immediately.
EATING GUIDELINES
When you arrive home after surgery, you may have something very soft to eat or cold to drink. In the evening on the day of your surgery, we recommend eating a soft, bland meal as this is usually the best way to help you feel better. For the first week, please do not eat anything hard or crunchy.
CARING FOR YOUR MOUTH
When possible, we will place a bandage over the surgical area to help with your comfort. Please DO NOT brush the bandaged areas. If the bandage should become loose or fall out and you are comfortable, then continue to avoid brushing the surgical areas. If the surgical area is uncomfortable without the bandage, then please call our office so that we can place a new bandage over the area. Please continue your regular oral hygiene habits on all other areas in your mouth. Please use an antiseptic mouthwash at least once in the morning and once at night before bed until your next appointment with our office. You can also swab the bandaged area with a cotton swab dipped in an antiseptic mouthwash every morning, every night before bed, and after eating and drinking.
If you have any questions or concerns, please call our office at 847-658-3355.