We know that our office is only as effective and as welcoming as the people who work in it, which is why we take pride in our friendly and well-trained team members! As a team, we are especially interested in making all our patients feel right at home! We put your needs first to achieve efficient and comprehensive treatment in a supportive and nurturing environment. We promise to speak candidly with you about possible treatments as well as any risks and associated costs of treatment, and how treatment can address your individual needs as a patient.
Our staff is uniquely trained and highly skilled, and we strive to provide energetic and fun-loving service to each patient. Our staff consists of team members with specialized training and multiple certifications, and each one of our team members has years of experience in treating patients with the highest level of care. We strive to stay abreast of the very latest in technology and advances by regularly attending continuing education courses and seminars.
To experience the difference that only a well-trained, professional and courteous team can deliver, schedule your appointment to our office today!
Meet our Periodontal Coordinators – Sue and Tanya!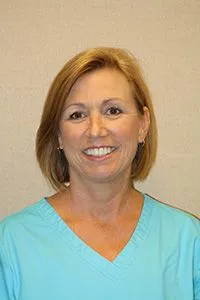 Sue
When contacting our office, Sue and Tanya will be there to assist you in making your experience as seamless and enjoyable as possible! Each of our Front Desk Periodontal Coordinators makes it their personal goal to ensure that each person is treated with care and respect, making sure all questions and concerns are addressed every step of the way. They can assist you in making an appointment, answering general treatment questions, insurance needs, payment options as well as many other topics. Each of them possess over 15 years of experience in the dental field and continually expand their knowledge to ensure they have the most current information available to assist our patients. They strive to make each person feel welcomed and at ease when coming to our office for an appointment, so don't be surprised if they make you smile along the way!
Meet our Hygienist – Jennifer (Jenny)!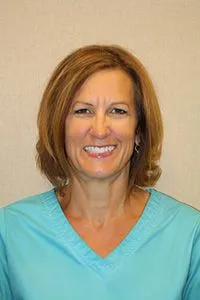 Jenny
Jenny graduated from college with degrees in Dental Hygiene. She decided to enter the field of dentistry out of a love for the profession as well as the enjoyment of working with people. She has worked over 25 years in the dental hygiene profession and enjoys helping people maintain healthy smiles! Our hygiene team continually strives to provide the best experience to patients by providing quality care in a comfortable atmosphere. Attending continuing education courses to stay in pace with the changing technology as well as learning the most advanced procedures allows our team to offer patients quality care.
Meet our Surgical Assistant – Terin!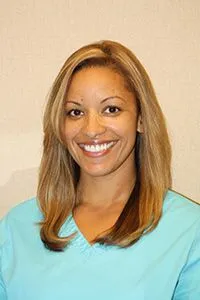 Terin
Terin graduated from the Dental Assistant Program with honors and has been working with Dr. Fiandaca since. With over 17 years of experience as an assistant, along with the love of helping people, she has a unique ability to place patients at ease while providing top quality care. She is continually advancing her skills with continuing education as well as taking it upon herself to make sure she gets to know each patient so that she can make sure all of their needs are met. Working with Dr. Fiandaca for over 17 years has created a team in which she is skilled in every procedure, understands what the patients require and can still "make you laugh" at the right time to keep you comfortable and at ease!